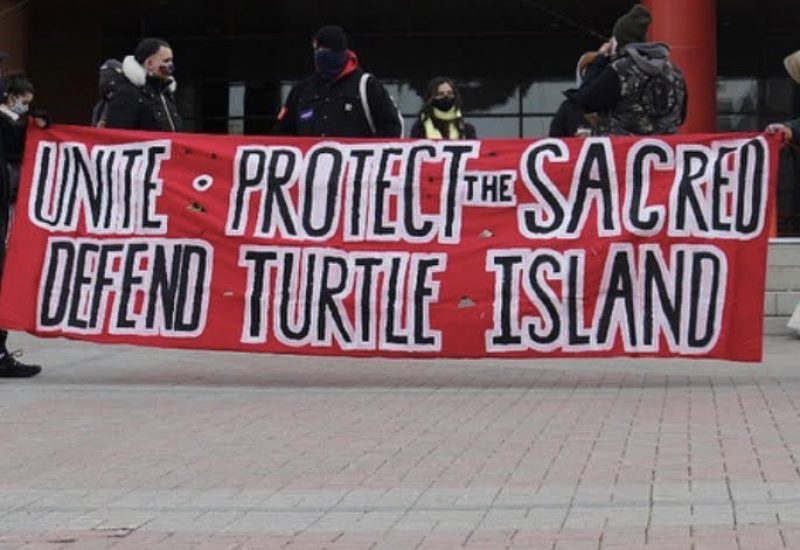 Sign at the protest on Nov. 19. Photo courtesy of the Ottawa Black Diaspora Coalition's Instagram page.
JHAMESHA MILORD ASHFORD – OTTAWA • ON | 25-11-2020
Community, Culture, Justice
Hundreds of organizers and allies showed up to support Black and Indigenous lives at a downtown demonstration on Nov.19. The demonstration ended 36 hours later when 12 people were arrested by Ottawa Police Services (OPS).
The Ottawa Black Diaspora Coalition (OBDC) organized the event — 'A Day of Action for Anishinabeg and Black Lives' at the intersection of Laurier and Nicholas streets. The OBDC was joined by land defenders, along with the Justice for Abdirahman Abdi Coalition. According to Alicia Marie, co-chair of the OBDC, the intent behind the protest was to bring attention to systemic racism and there were recent contributing factors, such as the acquittal of Ottawa Const. Daniel Montsion in relation to the 2016 death of Abdirahman Abdi, and the murder of an Indigenous woman by hospital nurses in Quebec.
Protesters had a list of demands which included:
1. Freeze the Ottawa Police Budget
2. No police in contested Indigenous territories
3. End dynamic entry, mental health checks and sexual assault by police
4. End discrimination against Indigenous and Black students in schools
5. End school Resource Officer Program
6. No racial slurs in our classrooms
7. More funding for Indigenous & Black students
8. Funds to fight the public health crisis of systemic racism
9. End racism in healthcare systems and public services
10. No more evictions. Affordable housing now !
Organizers suggested that city officials and the OPS board meet on-site to speak about the demands and negotiate. The police board did not agree, and instead suggested an extra five minute slot at the next OPS board meeting. But many had already signed up to speak at the board meeting for 30 minutes, Alicia Marie said.
Three city councillors eventually agreed to meet, which when the police board decided to set up a meeting in front of city hall, at noon on Nov. 21. Alicia Marie said in a phone call, Chief of Police Peter Sloly assured protesters that no one would be arrested. Demonstrators were relieved and took that opportunity to rest, while still fighting for their rights, she added. Three hours later, around 3:30 a.m. that morning, police forces showed up.
OC Transpo buses, ambulances and fire trucks were used to bring officers to the scene and arrest peaceful protesters.
"Once they approached the line, police told folks that they had 10 minutes to pack up and leave or they would be arrested," Alicia Marie said.
According to the organizers, it was an unreasonable request, considering it took them hours to set up the area. Alicia Marie said they tried to negotiate more time with officers but that police would not agree to anything else. Some officers were asking demonstrators to go on the sidewalk, some were told to keep packing their things and all the confusion led to immediate arrests.
Both organizers and allies, who were protecting Black and Indigenous peoples from the police, were arrested. In total, 12 people were detained and charged with mischief.
One of the organizers, a black Muslim woman, had her arm twisted while complying with police orders and picking her things up from the ground, according to Alicia Marie, and her hijab was ripped off while being arrested. Alicia Marie said an Indigenous organizer was told to get on the sidewalk and he complied, but still got arrested.
That's when everyone headed over to the police station on 474 Elgin St. where a large call out was made for allies to come support. After several hours, all 12 demonstrators were released.
During the 36 hour demonstration, protesters were met with other disturbances.
On the first day of the demonstration, a white woman in an SUV drove towards the protest and ran over peaceful demonstrators. Although news outlets across the city have reported that demonstrators were jumping on vehicles, Alicia Marie said she wants to make it clear that protesters were being run over, and the only safe option was to go on top of the car or under it. The woman was not stopped by police and was let go.
A white man also showed up early on the second day, with a concealed weapon and a 'Make Donald Drumpf Again" hat.
"He said and I quote 'I wear this hat to get under your skin. I wear this hat for your reactions,'" Alicia Marie said.
The man left shortly after a conversation with police officers.
Sacred objects such as sage and medicines were found trashed by the 417 Highway after their items were confiscated during the arrests.
Organizations are no longer interested in having conversations with city officials as they feel betrayed, Alicia Marie said.
For full details, take a listen to the full interview below with Alicia Marie, co-chair of the Ottawa Black Diaspora Coalition: