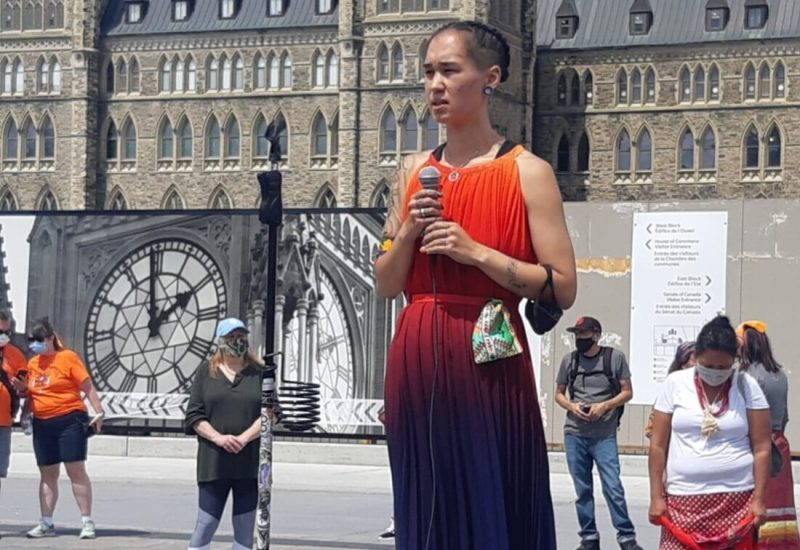 Nunavut MP Mumilaaq Qaqqaq addresses the crowd gathered on Parliament Saturday. Photo by Erica Endemann.
ERICA ENDEMANN – OTTAWA • ON | 04-08-2021
Community, Justice, Politics
Hundreds gathered on Parliament Hill on Sunday, to march to the Justice Department in a demonstration of solidarity with NDP MPs Charlie Angus (Timmins-James Bay) and Mumilaaq Qaqqaq (Nunavut). 
The two called on Candians to meet for a march of truth and justice, asking for the federal government to appoint a special prosecutor to investigate the residential schools with International Criminal Court Athourities. 
Visibly moved by the size of the crowd, Qaqqaq began by thanking everyone who had shown up, for caring. 
Angus and Qaqqaq's demand for a special investigation comes after over a thousand children's bodies have been found in unmarked graves at residential schools across the country. 
The residential schools operated from the 1860s until 1996 in Canada, and were notorious for cultural, emotional and physical abuse. 
"When you have mass graves across this country at every residential school, you are not talking about a tragedy, you are talking about a policy to destroy a people and that meets the test of a crime against humanity and it needs to be investigated," Angus said in his opening remarks to the crowd. 
Justin Trudeau and Attorney General David Lametti have said that they would support an investigation into the schools. 
However, Lametti has also said that initiating a criminal investigation is an exclusive power of the police force, and is not up to him or the prime minister. 
Qaqqaq asserts that the federal government does have the power to launch a special investigation, under the Director of Public Prosecutions Act, where the attorney general can recommend the appointment of a special prosecutor to the director of public prosecutions. 
In front of the Justice Department, Angus told the crowd that the evidence of the crimes committed by the Catholic church were inside the building they stood before. 
"Turn over these documents, expose these men," he said, while the crowd chanted, "No justice, no peace!"
If they are successful in launching an independent investigation, Qaqqaq believes that it will serve to prevent future injustice to Indigenous peoples in the future. 
"In being able to uncover that truth people will realize that we are really just scratching the surface," she said. "All Indigenous generations are being affected by intergenerational trauma in some way shape or form."
Listen to the story below about the march for Truth and Justice at Parliament on Sunday: