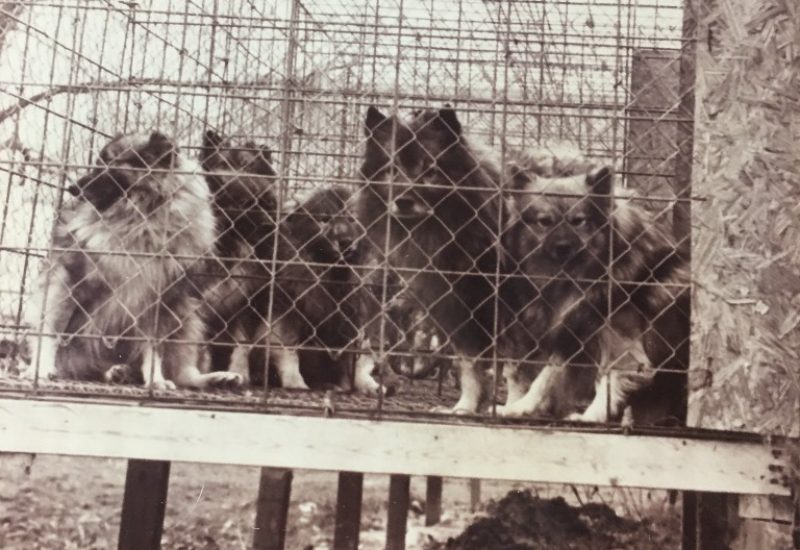 Puppy mills pose a threat to animals' health and safety as the demand for pets skyrockets. Photo courtesy of the Humane Society of the United States, submitted by Liz White.
LAUREN ROULSTON – OTTAWA • ON | 22-02-2021
Community, Justice
Local authorities and SPAA seized 230 dogs and 70 cats from a puppy mill in Saint Christophe d'Arthabaska, a small town between Montreal and Quebec, on Jan. 29. 
"It's the unspoken activity that people don't really like to talk about but there are puppy mills in Ontario and Quebec and across the country," says Liz White, a founding director of the Animal Alliance of Canada.
According to White, there's an estimated 1,500 puppy mills in Quebec. The province has even been called the puppy mill capital of North America.
"They found dozens of dead puppies and animals living in just awful conditions," says Stephen Smith, manager of communications for the Ottawa Humane Society. 
"COVID has sort of exacerbated the issue," says Smith. "There's a lot of folks right now who want to get a pet in their life. Without a doubt, this is because people have more time on their hands."
The pandemic has caused Canadians to spend much more time at home. Statistics Canada has reported that the number of Canadians working from home has increased by nearly 700,000 in January, bringing the total to 5.4 million. 
According to Smith, this extra time at home can provide pet owners with the training and bonding a pet really needs and might be a way for pet owners "to cope with the loneliness of the pandemic."
White also emphasizes the high demand for dogs. "We know that they're being shipped from other countries into Canada," she says.
A shipment of 500 puppies from Ukraine landed in Toronto over the summer. They had been crammed together and 38 had passed away from suffocation, with dozens more arriving in poor health conditions.
This prompted the Canadian Food Inspection Agency (CFIA) to put a temporary ban on the importation of puppies under eight months of age from Ukraine, effective Jul. 6, 2020.
White notes fewer animals are available in shelters as they try to keep up with the demand. 
"The vacancy of available animals was filled in by somebody setting up a bunch of puppy mills and delivering animals for commercial sale that way," says White.
Smith and the Ottawa Human Society encourage people to "Adopt, don't shop." He says if they do need to buy they must be asking questions to the seller before buying.
"We strongly encourage them to research who they're buying from first to make sure they're supporting somebody who actually cares about their animal's welfare and isn't in it just to make a quick buck," he says.
According to Smith, a seller who does not care for their animal's welfare may not ask a buyer if they are prepared or know how to care for it and simply seek to complete the transaction instead.
"One of the surest ways to find out is definitely how urgent the seller is making things," Smith says.
White also notes several red flags people encounter when buying animals.
"If you can't go to the place, if they won't show you where the animals are, how they're housed, how they're bred, if they won't give you all the paperwork, if you're buying off Kijiji you are risking some real heartache and problems both for you and the animal you get," says White
Smith says the animals in puppy mills are kept in "very deplorable conditions."
"They're not being fed properly, they're not being given the proper space," he says. He also notes that they are not being bred or trained properly, a concern echoed by White.
White says these animals are bred to maximize the number of puppies produced as opposed to considering the health and wellbeing of the female animal.
"Often fathers and siblings are bred, female animals and their male offspring are bred together," says White. 
This inbreeding can result in severe genetic conditions, such as hip dysplasia, weak ligaments and bones, and breathing issues due to flat noses.
"When people go and get these animals, are they prepared for a $5,000 vet bill upfront? I would argue in many cases not," says White.
She also expresses concern for the fate of animals adopted and purchased during the pandemic.
"Because people are acquiring pets during the pandemic the concern that I have at the end of it—if and when we go back to work— what going to happen to these animals," White asks.
"We'll see, we don't know. It may be that everyone's fine," she says. "There may be a surge of animals dropped off at shelters because they can't deal with the animal anymore."
Witnessed accounts of puppy mill activity can be reported to the SPCA or Humane Society