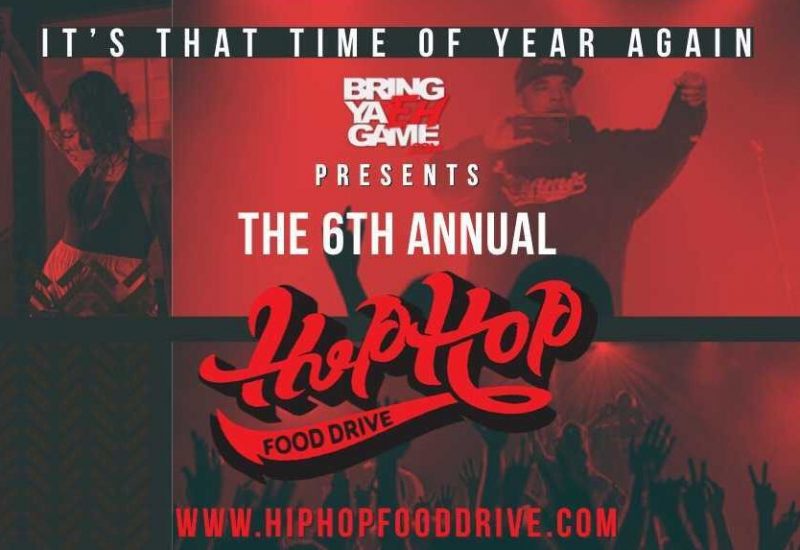 Hip Hop Food Drive poster for 2020. Photo by Justin Gunderson.
JHAMESHA MILORD ASHFORD – OTTAWA • ON | 02-12-2020
Community, Culture
Despite COVID-19 restrictions, the Hip Hop Food Drive is still happening this year and celebrating its sixth anniversary.
Usually, across Canadian cities, local hip hop artists perform at venues and audience members donate five dollars or non-perishable food items as admission at the annual event. All the proceeds are then given to the each city's food bank.
This year, a live stream of local performances will be going down on hiphopfooddrive.com from six different cities: Ottawa, Montreal, Kingston, Toronto, Vancouver and Calgary from Dec. 15-20.
Justin Gunderson, A.K.A "Ya Favorite Lightskin", radio host and promotions director at CHUO 89.1 FM, is the main organizer of the Hip Hop Food Drive.
When Gunderson was a teenager, he lived alone while attending school and said he had to rely on the food bank himself. In 2015, he decided to launch the Hip Hop Food Drive.
"Being a hip hop artist, and also being involved in radio, I [felt] like I had to take it upon myself to give back, at an opportunity where I could, while using music to do so." Gunderson said.
It's a "one-man mission" on the organizing front, but Gunderson said he's got lots of volunteers and they've been able to expand the team this year. For their sixth year, he said that there isn't a specific fundraising goal — their team is hoping to help during these tough times.
"I think the goal, really, is to just be able to give back. There's no figure as to how much we want to make," Gunderson said. "We just want to be able to raise the money and give it back at a time when everybody needs help."
About 30 artists across Canada will be participating, a listing will be available on the event's Facebook page.
From Dec. 15-20, streams will also be available on Facebook and YouTube, starting at 7 p.m. EST.
For Saturday Dec. 19 and Sunday Dec. 20, streams will start at 3 p.m. EST.
To donate, etransfers can be sent to [email protected].