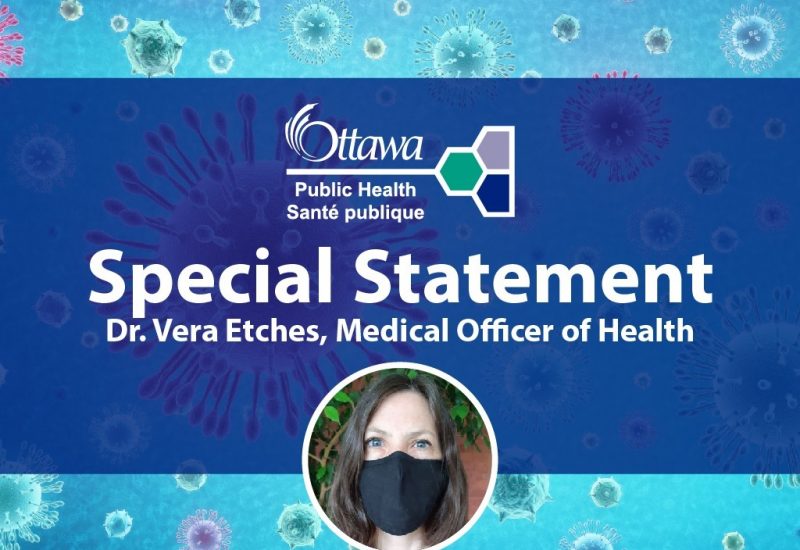 The Special Statement from Dr. Vera Etches on the report. Photo courtesy of Ottawa Public Health's website.
JHAMESHA MILORD ASHFORD – OTTAWA • ON | 26-11-2020
Community, COVID-19, Health
An Ottawa Public Health (OPH) report has revealed that racialized communities (particularly those who identify as Black) are over-represented in COVID-19 diagnoses.
According to the "COVID-19 and Racial Identity in Ottawa Report" released this week, people who identify as racialized (non-white) make up 63 per cent of COVID-19 cases, yet only represent 29 per cent of the city's population, according to the 2016 census data. Of that, people who identify as Black make up 37 per cent of Ottawa's early COVID-19 cases while representing just 7 per cent of the overall population.
The report was based on data from 1,444 people of the 2,981 diagnosed with COVID-19 up to Aug. 31. Nurses collected the data during follow up phone calls with people who tested positive for COVID-19 earlier this year.
Those working in in the health sector are the most affected by COVID-19, and more so in racialized populations. In most racial groups, women are more likely to be diagnosed with COVID-19 than men.
OPH collected sociodemographic information such as language, place of birth, racial identity, disability, occupation, age, sex and exposure (the source of infection).
OPH stated that the collection of sociodemographic data helps engage community groups, provide additional supports and improve client care and inform planning of services by:
Identifying trends within the data
Reducing barriers to care
Supporting health equity
The local health agency suggests that racialized communities may have difficulty limiting exposure to COVID-19 due to factors such as higher density housing that makes physical distancing hard and/or employment in essential work and that is often "precarious" — low-wage, temporary, unstable and without pensions and benefits (i.e., emergency or sick leave).
Those living in retirement homes, long-term care facilities or other types of group homes have been excluded of this research.
The Ottawa Aboriginal Coalition is currently doing research with First Nations, Metis and Inuit communities to document their experiences with COVID-19.
Here is a recording from a meeting with the Ontario Health team and OPH's Chief Medical Officer Dr. Vera Etches on Nov. 24 following the release of the report. Audio courtesy of OPH: