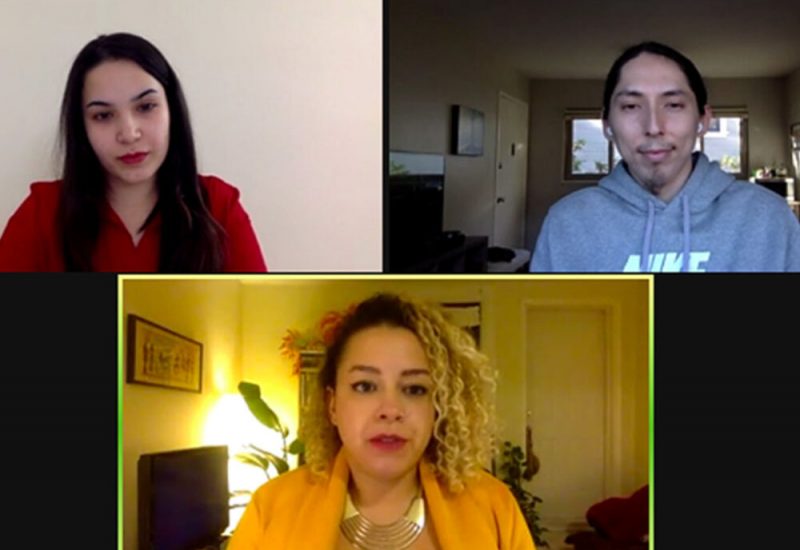 Sedanah Qwai (top left), Kyle Edwards (top right) and Pacinthe Mattar (bottom) talk about what it's like to be racialized in the newsroom. Photo by Gabby Calugay-Casuga.
GABBY CALUGAY-CASUGA – OTTAWA • ON | 26-02-2021
Community, Education, Justice
The Association for Equity and Inclusion in Journalism (AEIJ) hosted its first ever panel event yesterday.
The association, based in Carleton University, was created in the fall of 2019 after an article by Carleton Journalism School alumnus, Atong Ater, revealed the difficulties Black students face when studying journalism.
According a faculty liaison for the AEIJ, Prof. Brett Popplewell, Ater's article sparked a conversation around what meaningful diversity in journalism looked like. This conversation inspired the creation of the AEIJ which has been working to diversify Carleton's journalism school ever since.
"Our mission is to make the journalism school a safef space for Black, Indigenous, and students of colour, 2SLGBTQ+ students, and students with disabilities/disabled students," the AEIJ's mission statement says.
Thursday's event, according to a student member of AEIJ, Sedanah Qwai, was the first time the association hosted a panel event that anyone could attend. Qwai said it was a big step in furthering the AEIJ's mission of education.
"I think by opening this event to other people, it allows for people outside the association to be able to benefit from the conversation," Qwai said.
Pacinthe Mattar, an Egyptian-Canadian journalist and panelist for the event, said she was feeling great after the event.
"It was such an engaged group, and the questions were so excellent," Mattar said. "It was fun but also challenging because the questions we got were some of the most pressing questions about journalism and this industry."
Kyle Edwards, an Indigenous journalist from Canada and the other panelist for Thursday's event, used his time on the panel to talk about what diversity in journalism looks like right now and how it can improve.
"Newsrooms not only need to be diverse but needs it to be reflect in our coverage," Edwards said. "When we hire people of colour, that doesn't necessarily change what stories we are covering."
Mattar also said during the event the diversity of stories is important if there is to be meaningful representation in media.
"I really like to think journalism is going to get better for the journalist and for the audiences we serve," Mattar said.
Mattar said she hopes to see more diverse stories being run by media outlets.
"There is still a very narrow view of who the imagined audience is. It is predominantly White, middle class and older. But Canada is not only these things. We are much more than that," Mattar said.
Mattar said she hopes a change diversity in the newsroom will help not only aspiring BIPOC journalists but the community as a whole.
"I hope this breaks open what our imagined audience is, and that audience gets to see themselves represented in more meaningful ways," Mattar said.