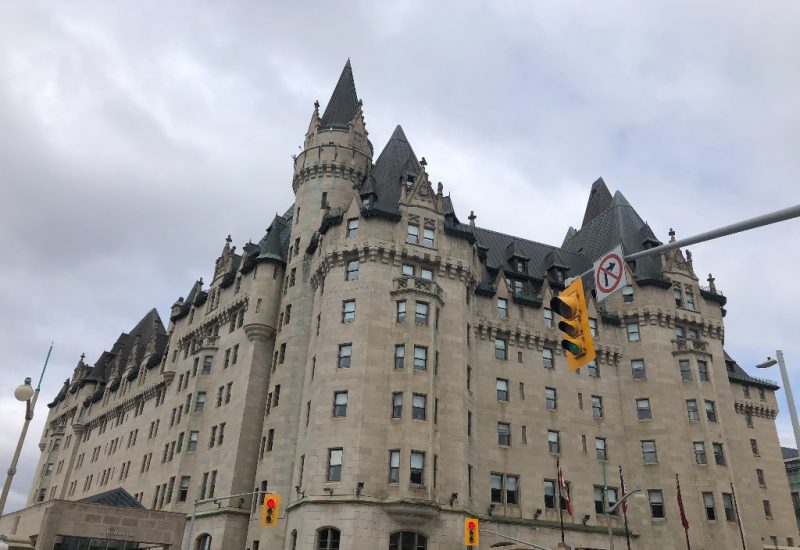 Discussions on development plans at Chateau Laurier have underscored the need for strengthened federal protections for National Historic Sites. Photo by Lauren Roulston.
Lauren Roulston – OTTAWA • ON | 02-04-2021
Community, Culture
Ottawa city council carried a motion for Mayor Jim Watson to write a letter to the Minister of Environment and Climate Change, urging for the strengthening of National Historic Sites.
Spearheaded by Coun. Mathieu Fleury and seconded by Coun. Catherine McKenney, the motion came after multiple discussions and calls from organizations and was unanimously carried on Feb. 24, 2021. 
Recurring discussions over the years for the plans to build on Chateau Laurier underscored the lack of power the government had in protecting the site. 
The building's owner returned with multiple revised plans for a new addition to the historic structure to meet the demands made by the city council.
"We looked at all of the provisions and authorities relating to that and felt that they were failing us a bit, they were falling short," says Fleury.
"Council certainly on that point agrees that National Historic Sites do need proper protection and proper oversight by the government who named it a national site," he adds.
There were six different renditions of the Chateau Laurier addition plan remade to meet the approval of the city, National Capital Commission and Parks Canada after being granted a heritage permit. 
Under the National Capital Commission, the federal government felt that Chateau Laurier was important enough to design guidelines for any possible additions to it according to David Flemming, former president of Heritage Ottawa.
"If [it's] important enough to be designated as part of our cultural history there should be some protection," Flemming says.
"When the additions were proposed they just felt that they couldn't intervene and that it was a municipal affair so they just bailed on it which was unfortunate," he adds.
Flemming says when a National Historic Site is owned by someone other than the government the federal government has no control over it.
"Ultimately, National Historic Sites are nationally identified… but there doesn't appear to be oversight or any keep to that important designation," says Fleury. 
There are about 740 National Historic Sites in Canada with about one-third being owned by the government, according to Fleury.
"So we have about 500 of those sights across Canada nationally protected, but there's no oversight, no approval regime for what they need or if there are changes to those properties, and that has significant impacts," he says.
Fleury says he does not doubt that the publicly-owned sites are properly maintained, safeguarded or invested in.
"I question those that are in the private sphere, and this is an example of that," he says of the Chateau Laurier discussions. 
The Mayor's letter to Minister Jonathan Wilkinson was sent on March 1. It outlined the city council's resolution to strengthen the protection of National Historic Sites. 
Fleury says this is an important consideration for the Minister as they're responsible for Parks Canada which carries the importance of "where we've come from as a country and where we're going."
"We don't want to abandon those nationally renowned sites who have a range of local interest but they also have a national interest as well," he says.
Heritage Ottawa has sent letters to ministers over the years to advocate for the National Historic Sites which have not been met with their requested federal and legislative protections.
"In all the efforts that the federal government's put into national parks they've sort of ignored historic parks," says Flemming.
He believes this issue isn't a priority for the government and they lack the political will to take action. 
"I mean they haven't done it up to now, it's been an obvious oversight. We've been bugging them for years about it, they just haven't moved on it," he says.
The city has not heard anything yet since sending the mayor's letter.
Fleury says the protection of National Historic Sites is central to his role as a representative and elected official in Ottawa.
"Wherever you go in the world, the history of that region, that country, reflects the identity of residents who are there today," he says.
"Those sites are of national importance and need to be protected for generations to come to speak of our history as a country and to showcase the evolution as well of not only the architecture but the meaning of what happened in those buildings of national significance," he adds.
Here is coun. Mathieu Fleury and David Flemming speaking with CHUO: