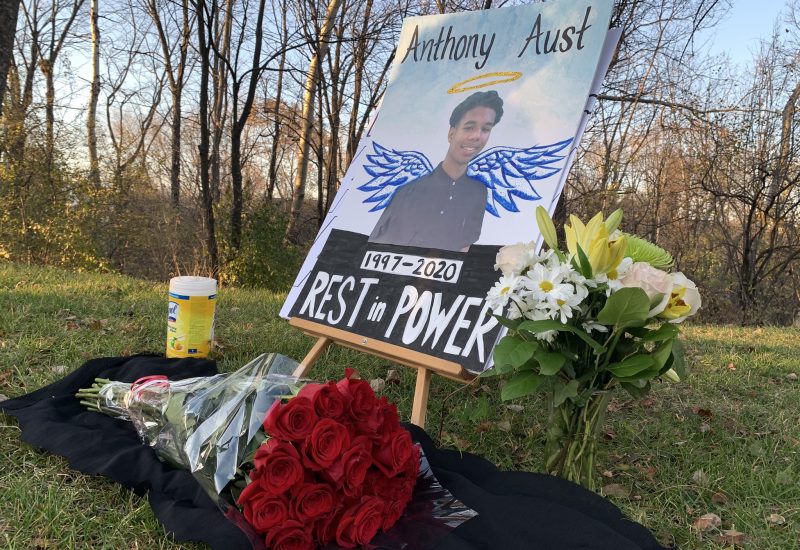 Painting of Anthony Aust with flowers at vigil on Nov. 8. Photo courtesy of Judy Trinh's Twitter.
JHAMESHA MILORD ASHFORD – OTTAWA • ON | 11-11-2020
Community
This Sunday, a vigil was held for Anthony Aust, a 23-year-old Ottawa man who died after falling from the 12th story window of his family's apartment building during a police encounter on Oct. 7. Aust's family was in attendance at the outdoor vigil near their home on Jasmine Crescent.  
"[I'm] devastated. However, it is what it is, [you know]. And I just have to continue," said Nhora Aust, Anthony's mother, in an interview with CHUO after the vigil.
During the encounter, police used the tactical force no-knock "dynamic entry" where 12 heavily armed officers entered the apartment by breaking down the door with smoke grenades. Although the practice has been criticized, it is still being used. Nhora said the family couldn't speak on any matters regarding the incident due to the ongoing investigation.
More than 100 people attended the vigil organized by the Justice for Abdirahman (JFA) Coalition on Nov. 8. Mourning community members gathered near the family's apartment building from 4 p.m. to 6:30 p.m. There were several speakers, including a community activist with a spoken word poem written for BIPOC mothers. Ifrah Yusuf, co-chair of the JFA, was also among the speakers at the vigil.
Anthony's mother, Nhora Aust, said it warmed her heart to see how many people were touched by the matter. For each year of Anthony's life, 23 roses were left at the site.
Here is CHUO's interview with Nhora Aust: