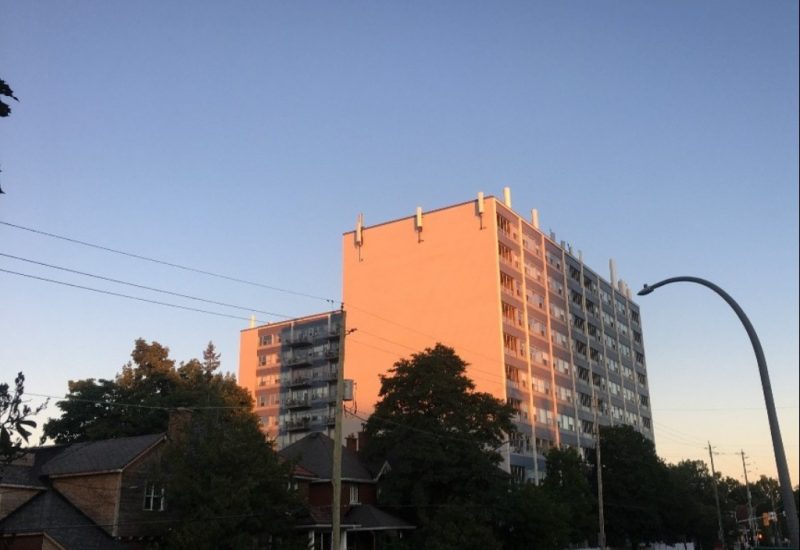 The City of Ottawa has approved a plan to preserve and increase affordable housing within the city. Photo by Lauren Roulston.
LAUREN ROULSTON – OTTAWA • ON | 15-03-2021
Community
Homeless shelters in Ottawa have been going over capacity since before the pandemic and many families have been relocated to emergency overflow housing units where they report unfit living conditions.
The City of Ottawa pays landlords to use their motels and apartments as emergency overflow shelters for homeless families.
The families living in these temporary housing units are "being given a choice between bad and bad," says Gwen Madiba, president of Equal Chance. 
Equal Chance seeks to empower Black women and low-income families to see them thrive. With this group, Madiba visited families at the Tabor apartments, an overflow shelter in Vanier. 
She provided them with food hampers and visited them on a regular basis to hear about the conditions they are living in.
She notes the families do not have any space in the apartments, saying she's seen families of over seven people in a one-bedroom apartment.
"You start wondering if that's even legal," she says.
Madiba recalls a time she visited a family at the Tabor when the kids were attending their online classes.
"The kids couldn't hear the teachers because there was too much noise, they didn't have earphones, it was extremely difficult," she says.
She also notes various reports of rats and other vermin in the building, with many of the families saying they have a hard time sleeping at night because of the noise of rats in the walls.
"Some of [the families] have been there for two years so it's no longer temporary. It's their everyday reality," she says.
On Mar. 2, Madiba spoke on behalf of these families at the city's joint-committee meeting addressing the housing and homelessness issue in Ottawa.
"If you see the living conditions of these people, you'll understand that they can no longer reside in places like that," she said to Mayor Jim Watson and city councillors, noting the families she met with made it clear they want permanent housing.
On Wednesday, city council approved a long-range financial plan that commits funding and support to the objectives of the city's 10-Year Housing and Homelessness Plan.
The financial plan grants $198.4 million over the next ten years to fully fund between 5,700-8,500 new affordable housing options and has the city on track to deliver 694 new affordable housing units by the end of 2022.
"We have been pleased to see recently that there has been a greater investment of various levels of government in affordable housing and we're hopeful that we will see some positive movement there," says Caroline Cox, senior manager of communications at Shepherds of Good Hope. 
Shepherds of Good Hope has been working with partners and the City of Ottawa, which operationalized various physical distancing centres and temporary shelters.
Cox says this is great, "but the real solution is housing."
She says the massive numbers in their shelter pre-pandemic were already reflective of the major housing and homelessness crisis going on.
"We were at or over capacity every single night with a capacity of 268 beds," she says, noting the close proximity of the bunk beds.
"We were regularly exceeding that up to 300 people and that's when we ran out of beds, there were mats on the floors, in the hallways, in no way a dignified environment for people to recover from anything," Cox adds. 
She also notes the high rates of BIPOC individuals within their shelters, noting some of their programs seeing up to 20 per cent of individuals are Indigenous. 
"My thought on this has always been that any group that experiences marginalization, you will see disproportionately reflected in the homeless community, we do see that with BIPOC individuals."
In her work and volunteering within the city's shelters and at the Tabor, Madiba was shocked to find the majority of individuals and families residing within them were BIPOC. 

She says only after visiting them frequently did the families feel comfortable sharing their stories with her. 
"They're afraid to speak up because they think that if they say something they're going to be seen as ungrateful and they might not be given housing," she says.
Madiba co-founded Equal Chance after experiencing multiple instances of racism and discrimination as the only Black person in her workplace. 
"I thought… I am a Black educated woman, I have a Master's degree, I have some credentials," she says. "If I am going through this, imagine the amount of other Black women, men, gender-diverse folks that are going through this and that are afraid to speak up."
Last year, Madiba received the United Way of Eastern Ontario's Community Builder Award-COVID-19 heroes edition for her dedication and work to assisting the most vulnerable people during the pandemic.
She says volunteering is her way of giving back.
"I've been through so many challenges in my life and I know what it's like to be at the bottom and be ashamed," says Madiba.
"I've faced homelessness while I was a student at the University of Ottawa. I was embarrassed, I wasn't strong enough to call for help," she says. "It was extremely difficult, but I made it."
"I think that we all have a collective responsibility as a society to use our resources to help those who need it most."
Here is Gwen Madiba speaking with CHUO: