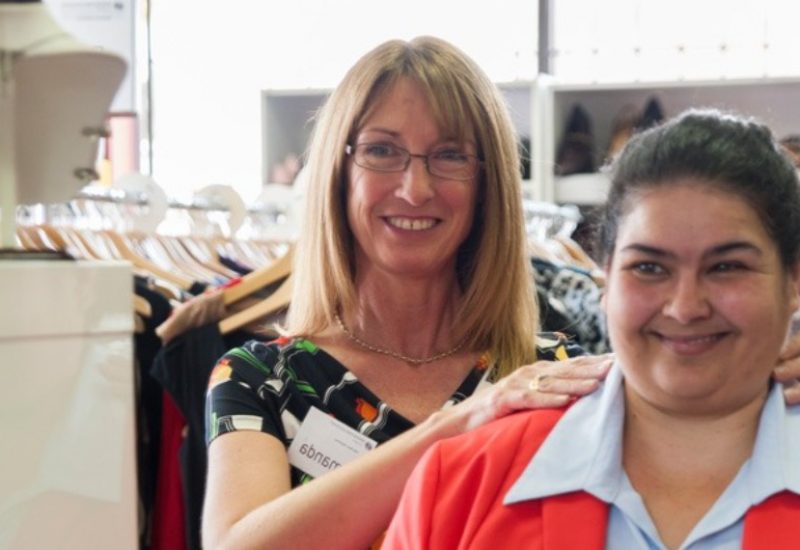 Dress for Success offers various programs for women in need, including a suiting program to provide them with professional attire. Photo courtesy of Dress for Success Ottawa.
LAUREN ROULSTON – OTTAWA • ON | 08-03-2021
Community
COVID-19 has wreaked havoc on Canadians financially with some being hit worse than others: Statistics Canada reports full-time work among Canadians is down 23 per cent from pre-COVID levels and among young women, it's down almost 30 per cent.
"Many of the other organizations in the city that they would have previously been getting services from were completely closed, so they turned to us," says Mary Tersigni-Paltrinieri, executive director of Dress for Success Ottawa. 
Dress for Success is a non-profit organization that aims to empower women to achieve economic independence by providing them with various programs and services to help them thrive in the workforce.
Once COVID-19 lockdown hit the organization re-examined how they could continue to serve the women within their community.
Tersigni-Paltrinieri says the organization pivoted all of its one-on-one career centre appointments to a virtual platform within the first three weeks of the initial lockdown last March.
At one point in April 2020, 60 per cent of the organization's clients were unemployed, reflecting the bigger effects the pandemic has on women, according to Tersigni-Paltrinieri.
"We had a pretty good sense that this pandemic was going to be disproportionately impacting women," she says.
Dress for Success's annual International Women's Day campaign focuses on helping women get on track with their career goals, stating that a $25 donation helps one woman start their journey with the organization.
International Womxn's Day is just 3 days away! Help us get womxn back into the workforce after a year that has seen many womxn's jobs being impacted because of the pandemic. It only takes $25 welcome someone into #DFSOttawa.https://t.co/kdhCoJOFbB#IWD2021 #ChooseToChallenge pic.twitter.com/1yShfmarUX

— Dress for Success Ottawa (@DFSOttawa) March 5, 2021
"With the pandemic and this many women out of work we have been very hard at work focusing on getting women back into the workforce," says Tersigni-Paltrinieri.
She says they have completely pivoted their programs to follow current public health guidelines.
Some of these programs include a dress rehearsal mock interview program, career counseling, a series of professional development workshops and a suiting program that provides women with professional attire.
"As an organization, Dress for Success is set up on being face-to-face, one-on-one with people," she says. "Once COVID hit we took a long look at how we could continue serving women in our community."
She notes the organization's suiting program has seen the biggest pivot. It was closed for over five months during 2020 and reopened in September as a hybrid program to limit the people in their space.
"We were offering some appointments in person in our boutique and then other appointments were being offered virtually by curbside pickup," she says.
The suiting program is supplied for by clothing donations which used to take place once a month.
"Because of the pandemic and because you can't have people just freely walking into the space… we chose to move to an appointment-based system with a contact list drop-off," says Tersigni-Paltrinieri. "All of our donors make an appointment online for a certain time, when they arrive they give us a call and then one of our volunteers comes out."
The next clothing donation will take place on March 15 and is fully booked.
"The community has been very generous in their support of us over the past ten years but definitely within the past year, wanting to continue to help and come out and support even during a pandemic with the clothing donations has been really wonderful," says Tersigni-Paltrinieri.
In May, the organization launched a "Helping Women Now" program, born out of the concerns they received from their clients.
The program offers peer-to-peer support to combat feelings of isolation and allows women to talk about their issues, whether they're financial or personal.
"Each client can have as many appointments as they want, it's a 45-minute session one-to-one and they're able to deal with one specific issue that's most pressing to them," she says. These appointments often point women towards some of the other services the organization offers.
Many of these clients are fighting ageism, sexism, racism and homophobia while also trying to put themselves and their careers first.
"That's part of the reason why the pandemic has been so disproportionately hard for women across all ages and races and socio-economic positions," she says.
"A woman has to be provided with confidence to feel empowered, to know that they can do it and to know that they can get whatever job it is that they want," she says. "It make take some work, but we're here to support them and that's the most important thing, I think."
Tersigni-Paltrinieri says the organization envisions a world where women are empowered regardless of these barriers they currently face.
"That's where we want to get to one day and until we get there our organization will be here to support women and continue to remove those barriers for them so that we can empower every single woman in our community," she says.
To make a donation, or to find out more about Dress for Success's programs, go to https://ottawa.dressforsuccess.org/
Here is Mary Tesigni-Paltrinieri speaking with CHUO: