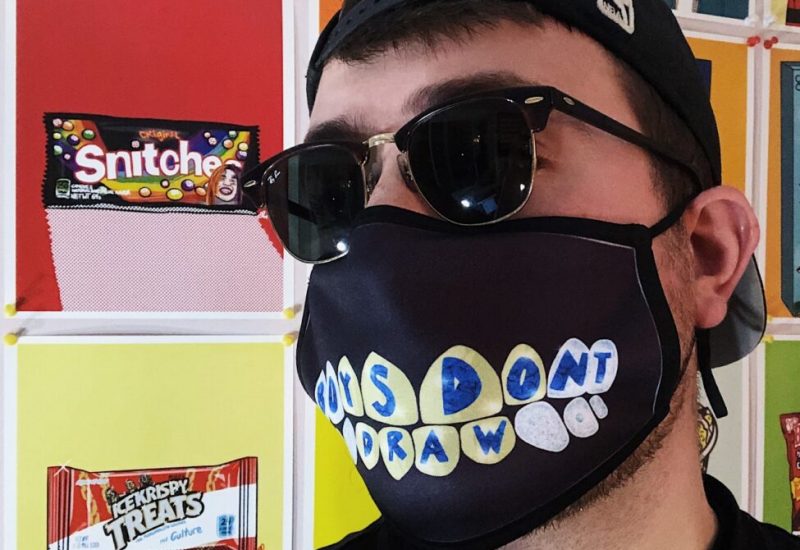 Stefan Perić started BOYSDONTDRAW in 2017 and recently launched a new clothing line titled the Artist Series. Photo courtesy of Stefan Perić.
SIERRA-ANNE CONVILLE – OTTAWA • ON | 02-03-2021
Community, Culture
Local art initiative BOYSDONTDRAW has launched a new clothing line.
BOYSDONTDRAW was founded by Stefan Perić in March 2017. The company sells prints, clothing, stickers and posters along with participating in art shows and other creative endeavours.
"The main source of inspiration for everything is like hip-hop and pop culture," Perić said.
In February, Perić launched the Artist Series which is a themed collection highlighting Andy Warhol, Jean-Michel Basquiat, Barbara Kruger and Takashi Murakami.
Perić said that these four artists influence his style.
"I take something kind of from every one of these artists in a way," he added.
Perić noted that he wanted to do a collection that branched out from hip-hop culture so, naturally, he looked to artists as the motivation.
"It started out as a project in one of my classes with event management and it kind of blew up from there," he said. "I thought of my biggest inspirations in art and decided to highlight them basically."
BOYSDONTDRAW confirmed on social media that the company plans to drop a new "Clothing & Print capsule" every month in 2021.
Perić explained that he has been passionate about art, design and clothing since he was a child.
"Everything leading up to this point probably started out in the sixth grade," he said.
"I was doing skateboarding camp and I was just kind of like amused by what went into running a skate shop and having your own sort of clothing to go with it and your own products," Perić said.
"For the longest time I wanted to open up my own skate shop and that dream just sort of evolved into wanting to start my own clothing to you know wanting to incorporate my art in some way," he added.
Perić described BOYSDONTDRAW as the main thing he wants to focus on in his life.
"I know that I want to do something that involves art, and I know that I love style and clothing and you know it all kind of seems like a good mix of everything that I'm interested in," Perić said.
"When I think about what I wanna do with this in the future I'm just like the possibilities are endless and I'm committed to this and this is something that I really enjoy doing," he added.
Perić noted that his motivation comes from the unique things happening in the world around him.
"There's always some cool hip-hop that I'm listening to or some cool pop culture moments that are happening and it's nice to sort of capture everything within my sort of lens," he said.
The BOYSDONTDRAW website can be found here.
Here is Stefan Perić speaking with CHUO: