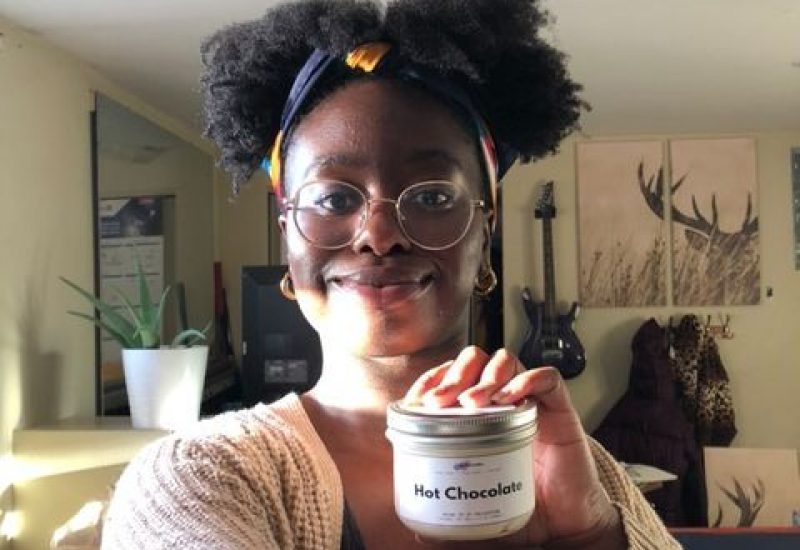 Junique Gooden founded the beauty brand Enfematic and has recently launched a new line of body butters. Photo by Junique Gooden.
SIERRA-ANNE CONVILLE – OTTAWA • ON | 17-03-2021
Community, Culture
An Ottawa based skincare, wellness and beauty brand is selling a new line of body butters inspired by everyday drinks.
Junique Gooden runs Enfematic, a black-owned business founded in July 2020. The company's products include body butters, body oils, candles, soaps and lip balms which are all 100 per cent natural, organic and handmade.
Gooden described Enfematic as "an experience that people can connect to as well as having this natural aspect of it, as well as it being affordable."
"I wanted to make something that people feel good using," she added.
The Drink it Up Collection is Enfematic's newest launch which includes body butters based on everyday drinks. The drinks include hot chocolate, chai tea, bay rum vanilla and coconut milk. A lot of these flavours are Caribbean inspired — Gooden is Caribbean herself and translates that through some of her products. Gooden described these body butters as her favourite products she has created so far.
"I definitely rely on being myself," Gooden said. "I'm gonna be myself and that's gonna show through my products," she added.
Gooden said that her motivation comes from "loving the aspect of creation."
The name "Enfematic" stems from the word "emphatic" which Gooden relates to expressing yourself strongly.
"What I want to express with Enfematic is that you can feel and be yourself when using it, and to feel and be yourself is the strongest thing you can do like ever," she said.
Gooden chose to add "fem" in the name and she explained that this idea came to her in a dream one night.
Although Gooden is confident in her work and being herself, she has faced challenges as a small business owner in a large industry. She said that putting herself out there among a lot of competition has been difficult at times.
For the future of Enfematic, Gooden wants to expand into creating home cleaning supplies and hygiene products.
"I'm very excited on where Enfematic's journey is going," Gooden said. "I definitely see Enfematic thriving."
The Enfematic website can be found here.
Here is Junique Gooden speaking with CHUO: