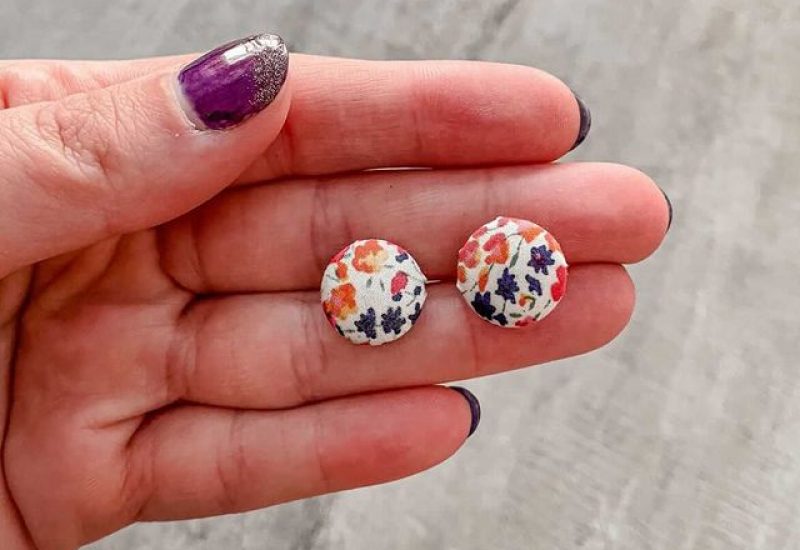 Kim of KF Jewelry Boutique specializes in making earrings for sensitive ears along with using handpicked fabrics. Photo courtesy of Kim.
SIERRA-ANNE CONVILLE – OTTAWA • ON | 18-03-2021
Community, Culture
Kim Faith started a jewelry company in July 2020 to express her creativity during the pandemic.
Kimberly Faith (KF) Jewelry Boutique is a local business that focuses on dangle and stud earrings made with handpicked fabrics and both lead and nickel free materials.
KF Jewelry Boutique is a side business for Kim, and she said that she's enjoying the opportunity this project has given her to keep busy and have a good time.
Kim described her business as "a way to express even more creativity into the world."
Kim said that she's been interested in jewelry for a long time.
"I have about four holes in each ear, so I've always always worn earrings," she said.
Kim explained how her brand caters to those who have allergies and sensitivities while still offering affordable prices.
"To be able to wear something that isn't gonna cost me like an arm and a leg, that's not gonna make my ears burn and swell and hurt and that sort of thing. I knew that I wasn't gonna be the only person in the entire world with these problems," she said.
Kim said that she recently acquired new fabrics for her upcoming Spring launch.
"They're floral, they're upbeat, they're exciting," she said.
"We do carry a lot of floral prints, it's just one of those things that makes us feel good," she added.
Kim said that she has been able to get her earrings and jewelry in a few local shops and hopes to have her products in other small shops as well.
The KF Jewelry Boutique website can be found here.
Here is Kim speaking with CHUO: