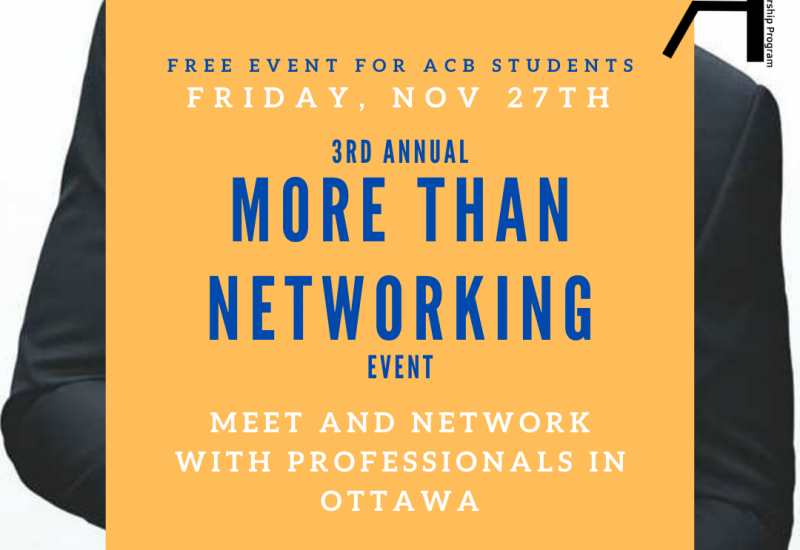 A sign for the More Than Networking event. Photo courtesy of the Afro-Caribbean Mentorship Program's Facebook page.
JHAMESHA MILORD ASHFORD – OTTAWA • ON | 17-11-2020
Community, Education
Since November 2018, the Afro-Caribbean Mentorship Program (ACMP) has been bringing Black people in the Ottawa community together to network and build positive relations.
The ACMP is hosting the third "More Than Networking" event on Nov. 27, where BIPOC high school and post-secondary students connect with racialized and non-racialized professionals in the business field they want to, or already, study in.
A "How to Network" workshop will be held on Nov. 25 in order to prepare students for the More Than Networking event.
Warren Clarke, founder of the ACMP, started this program after undergrad students from Carleton University asked for help on their grad school applications. While bringing everyone together, Clarke's main goal with this event is to identify where the gaps are in black students' learning and fill them in.
"One of the big gaps is networking and how to network and how to put your best foot forward to get to the career they want or social circles that will provide positive outcomes for the black youth," Clarke said.
With this event, the program is looking to not only teach young people how to network, but to also build and maintain professional relationships that will bring positive outcomes.
The event is virtual this year due to COVID-19, so there will be no complimentary dinners but the ACMP is offering six $50 dinner gift certificates (for a variety of restaurants), one $200-dollar book bursary and clothing from the Carleton University and The University of Ottawa.
The event is free and will take place on Zoom starting at 6:30 p.m. until 9 p.m.
Community members and students are welcome to sign up on The Afro-Caribbean Mentorship Program website.
Guest speakers for the More than Networking event include:
Issa Guindo, Principal lead consultant at Onica Rackspace Technology Company
Dionne Sinclair, Advancement Director Diversity, Equity and Inclusion in Ontario Health Care
Jabez Arkaifie, RBC Branch Manager