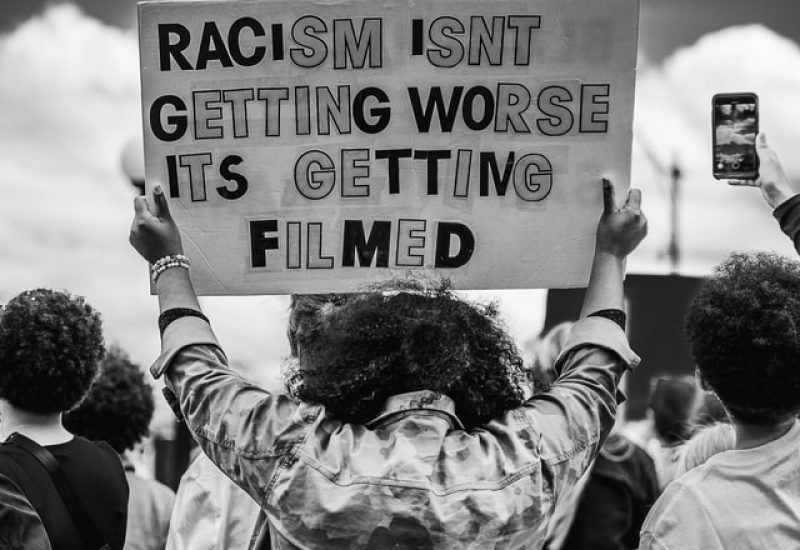 The De-escalation 101 for Actions workshop urges all organizers of social justice advocacy to be prepared to de-escalate tension. Photo by 99.films at Unsplash.
ERICA ENDEMANN – OTTAWA • ON | 23-08-2021
Community, Justice
The Black Lives Matter protests last year, sparked by the murder of George Floyd, have marked the pandemic with significant examples of extreme police intervention and brutality, as well as harassment from on-lookers, counter-protestors and provocateur's. 
This Tuesday, a workshop being held online is looking at how to de-escalate violence from police and instigators when attending rallies, protests or other advocacy events. 
Hosted by a number of different community organizations, the workshop, called "De-escalation 101 for Actions", seeks to provide tools for organizers to prepare for these scenarios through a trauma-informed lens. 
Leila Tchouassi from the Ottawa Black Diaspora Coalition, an organization that focuses on combating all forms of anti-Black systemic racism, says that harassment occurs at every event that she's attended. 
"A lot of people take advantage of the hurt and the rage and the vulnerability of Black folks in the spaces of organizing and direct action," she said. " But if I were to start anywhere with the incidents that I've seen have been in the ways that police antagonize activists."
Sharmeen Khan from Tools for Change, one of the hosts of the event that provides workshops for activists to sharpen skills around social justice, explains that the workshop will seek to hone in on how to keep people safe, prevent distractions and stay on message — all while facing down the potential fear and disorientation of any instigators, including police. 
This kind of practice is not uncommon, she explains. 
"For decades, there was actually direct action training that comes from the civil disobedience histories in the states," she said. "People would actually practice with the lunch counter protests in the south, being spit on, coffee being thrown on them and milkshakes, and holding their ground." 
Although this won't be offered at this workshop, it's a practice that Khan would suggest. 
"Any kind of training is not going to hurt you," she said. "A really effective tool that people have used in direct action is called a 'hassle line.' You're going to be linked up and confronting an oppositional force, and you practice how you're going to react for people to be in your face, using really harmful language, and see what emotions are coming up for you and how you can use them  in support and make decisions in response to that."
Khan and Tchouassi both explain that rigorous safety and back-up plans are made prior to any demonstration. Most events have designated support workers, blockers, volunteers and people assigned to speak with the media and the police. 
But it is important, Tchouassi says, that people realize some confrontations will always be a shock. 
"If you get spat on, that's a violation of your body," she said. "I don't know a lot of people who know how to react to that safely. Or getting spat on and called the N-word in an already heightened and scary and very pressure filled space." 
"I wish that more people understood the vulnerability and the danger that people put themselves into when they are planning these actions. But at the same time, the compassion and care that all people put into these organizations. It's to create a safer society for everyone." 
 The event is open for registration and can be found at toolsforchange.net. 
Listen to the story below to learn more about common de-escalation tactics and the experience of an Ottawa activist.