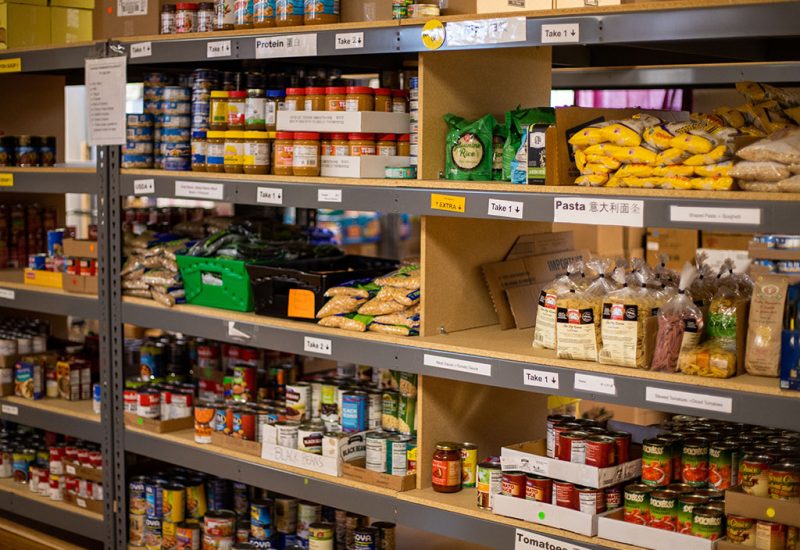 Although larger groups like the Ottawa Food Bank do not seem concerned by the increased need, smaller community groups said they feel people should know that food insecurity might be on the rise. Photo by Aaron Doucett on Unsplash.
GABBY CALUGAY-CASUGA – OTTAWA • ON | 01-04-2021
Community, Health
Ottawa Street Medics (OSM) and Ottawa Food not Bombs have been concerned about the growing need for food in Ottawa.
Over the last weeks, OSM has reported an increase in requests for food. Daniel Bailey, founder of OSM, explained what the situation has been for his community group.
"The demand has been completely overwhelming," Bailey said. "We can show up to any shelter and in front there will be around 20 starving people."
Jen Bongondo, an organizer for Ottawa Food not Bombs, said she also noticed an increase in need for food.
"There has been an increase in meals and fresh produce," Bongondo said. "And the need for that has definitely been highest we've seen since we started."
The Ottawa Food Bank said in an email statement that there is not a food shortage in Ottawa.
"We have heard anecdotally that service in the food bank network in Ottawa has intensified a bit at the moment, but it's not necessarily something that has been reflected in our tracking at this time," the food bank stated. "The feedback that we're hearing reflects that families and individuals are currently requesting more food than the usual allotment. There could be a few reasons for this – but all speculation at this point."
Bailey said that unhoused and impoverished people have told him the reason there is a need for more support is because people are prioritizing their other bills and living costs over food costs.
"We are running into lots of people who have never experienced this before," Bailey said. "People with kids who have gotten their hours cut because of COVID-19 simply cannot make ends meet."
Bongondo said she feels that although the requests for food have not yet overwhelmed the Ottawa Food Bank, smaller community groups have been feeling the pressure. She said this fact alone should be enough to get people to care.
"People aren't numbers, they aren't just a cell in an Excel sheet," Bongondo said. "Ourselves and OSM are in the community…we are seeing the real-world impact."
"We can't just look at food insecurity as a statistical thing," Bongondo continued. "It is a real-life issue that is impacting real people on a daily basis."
Bailey said there are two ways to help those in need. On a small scale, people can go into their community and provide support.
Bailey said the larger solution is to pressure the government to provide more support for Canada's vulnerable communities. He referenced a graph showing the number of active COVID-19 cases in Canada. During the period that the Canada Emergency Response Benefit (CERB) was available, Canada reached its lowest number of active cases during the pandemic.
"The larger answer is to pressure our government at every level to do better," Bailey said. "We can do things like provide housing and pressure for legislation for landlords to create rent control so people don't have to pay all of their money every month just to live."