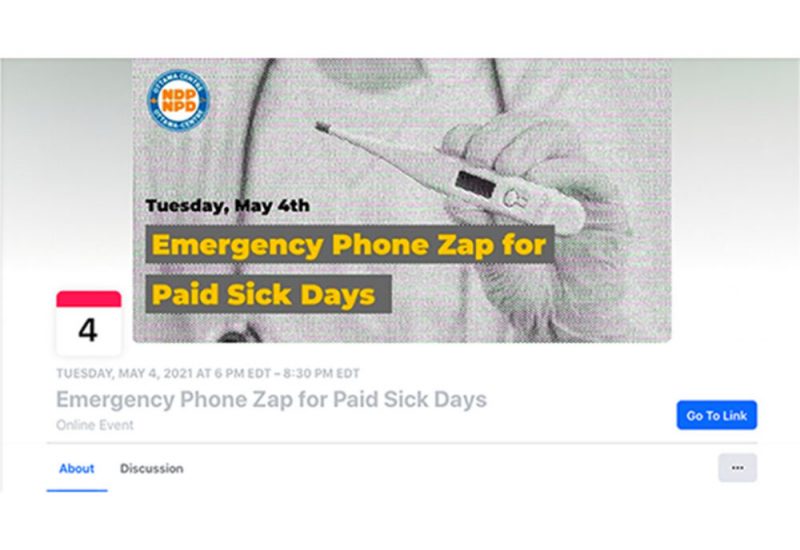 A phone zap is an action where many participants make calls in a short amount of time to inundate phone lines and attract attention to an issue. One was organized to contact Chandra Pasma and gather support for more paid sick days. Screenshot by Gabby Calugay-Casuga.
GABBY CALUGAY-CASUGA – OTTAWA • ON | 07-05-2021
Community, COVID-19, Health
The Ottawa NDP organized an emergency phone zap this week to push for a more comprehensive paid sick leave program in Ontario. Participants in the action joined a video call at 6 p.m. on May 4 where they were debriefed on the current Ontario paid sick day program. The group then made mass phone calls to Ottawa West Nepean NDP candidate, Chandra Pasma.
A phone zap is an action where many participants make calls in a short amount of time to inundate phone lines and attract attention to an issue. According to the Facebook event description, the phone campaign was organized to gather broad support for paid sick days. The current paid sick leave program provided by the Ford government offers three paid sick days. Ontario residents can also receive up to $500 per week under the Canadian Recovery Sickness Benefit (CRSB) if they miss more than half of their work week.
"By providing time-limited access to three paid leave days, the province is ensuring employees can pay their bills as they help stop the spread of the virus, including by getting tested, waiting for their results in isolation or going to get their vaccine," an Ontario government press release stated April 28.
Despite these claims, many are criticizing this program for being insufficient. Pasma explained why she thinks this program needs to be improved.
"We're at a moment where we have this massive third wave and our ICUs are overwhelmed and our healthcare workers are begging for measures to stop this," Pasma said. "We know that the only way that's going to happen is by getting paid sick days for all workers."
In the April 28 press release, the Ontario government said the paid sick leave offered to residents is one of the most generous in the country. But there has been a large amount of support for five to ten paid sick days.
According to a recent survey commissioned by Unifor, Canada's largest private sector union, the support for ten paid sick days outweighs the opposition. The survey showed that 64 per cent of Ontario residents who responded to the survey supported implementing ten paid sick days while only 18 per cent opposed.
"The response is overwhelmingly supportive. People really understand the necessity of paid sick days right now," Pasma said. "They're really frustrated that here we are, almost 14 full months into the pandemic and we still don't have ten paid sick days."
Pasma said that in an ideal world, the improvements to the paid sick leave program will not end at adding ten paid sick days. They not only need to be provided but they also need to be easily accessible, Pasma said.
"As somebody who had COVID-19 myself last year, I also know that you don't necessarily know when you wake up and don't feel well that it is COVID-19," Pasma said.
Pasma said when people only suspect that they have COVID-19, they still go into work due to their financial needs.
"We need those people to stay home, get tested and only when they know for sure that it's not COVID-19 can they go into work again," Pasma said.