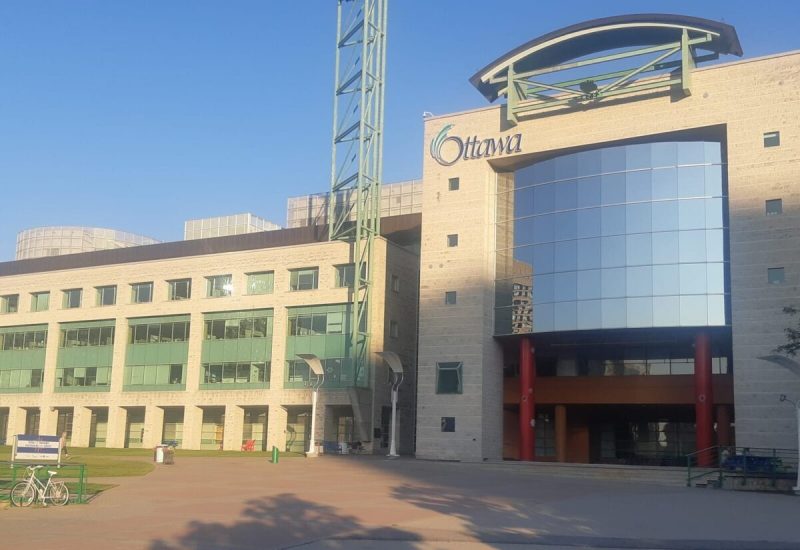 While city council breaks for the summer, the police budget directions are still being discussed in the community. Photo by Erica Endemann.
ERICA ENDEMANN – OTTAWA • ON | 30-07-2021
Community, Justice, Politics
A number of residents appeared at the Ottawa Police Services Board meeting on Monday to deliver delegations, reiterating a desire to see the police budget frozen or reduced in the 2022 budget. 
In response to public criticism over the increase, Coun. Diane Deans, chair of the Ottawa Police Services Board, explained that if the police budget was reduced so quickly, over a hundred officers would have to be laid off, and the majority of them would be diversity hires — women and BIPOC officers.  
Ottawa city council approved budget directions for next year before rising for the summer last week, including approving a three per cent tax increase to the police budget. The proposed increase would be about $13 million, around the same amount that they were given in the 2021 budget. City council made a commitment to freeze spending at 2021 levels last year, after the delegations asked that the  planned $13.2 million year-over-year increase in spending to the police be entirely scrapped. 
The theoretical lay-offs are what Alexandra Wishart, a PhD student of political science at Carleton and activist for reformed policing, describes as "effective blackmail." 
"City hall is then afraid of A) people on the right saying that city hall is not concerned with public safety and B) people on the left saying city hall allowed for diversity hires to be fired, because they wouldn't fund them," Wishart said. 
Robin Browne has attended all Ottawa Police Services Board meetings for the last four months. He works with 613-819 Black Hub, an activism group that works to end anti-Black racism in the Ottawa-Gatineau area through systemic change. 
He thinks the police are missing the point. 
Browne wants to abolish the police in the long-term, but in the short-term he wants police funding reduced.
"That by definition, means reducing the actual police force. The police are saying that might lead to layoffs and we're like 'Good! That's exactly what we want to happen,'" he said. 
He also believes that lay-offs are not necessary, if cuts were made to the police force elsewhere, such as cutting over time and reducing the Neighbourhood Resource Teams, which appoint officers to only work in assigned areas of the city for a minimum of two years. 
The desire for many community members is to see funding diverted from the police budget and instead put towards public health initiatives, so that police will not be called for situations that are actually mental health crises. 
In these circumstances, the worst outcome when the police are called is that people may die, said Browne. 
"Luckily, that's not the typical outcome but, unfortunately, one is one too many, and we've had very high profile examples of that here in Ottawa."
Just last year, 23-year-old Anthony Aust fell 12 storeys from his apartment window to his death during a no-knock raid by Ottawa police. In 2016, 37-year-old Abdirahman Abdi was killed during a violent arrest by two Ottawa police officers. 
Wishart thinks that 911 has to stop being used as a catch-all for all problems, and that the easiest way to change that is to put money into already existing social structures. 
"We have to make it so that if you call 911 and say 'I think I'm a danger to myself I need to go to the hospital,' the person that is dispatched is a social worker. And those people already exist within our existing framework of governance," she said. 
"But what it will mean is that some of the funds that would normally go to policing will have to go so that a social worker will have enough space to respond to these calls in a timely manner," she added. "It's the fastest way because we already have the structure. It wouldn't be a reimagining of the way the government ought to work."
OPS Chief Peter Sloly said during Monday's board meeting that he recognizes the urgency that residents feel, but that change such as is being asked for can take up to a decade to implement. 
"It will take as long as we give it time to take," Wishart said. "But there has to be some urgency on the part of city hall. They are not going to give up their resources until they absolutely have to." 
Browne fundamentally feels positive about the heat coming from the community towards city hall in this regard. 
"What gives me optimism is the other public delegations," he said. "The overwhelming amount of them are asking for the police budget to be frozen, and one hundred per cent of them are super articulate, well-researched, solid delegations." 
"So that's what gives me great hope and optimism." 
Listen to Robin Browne and Alexandra Wishart speak more about the proposed police budget in the story below: