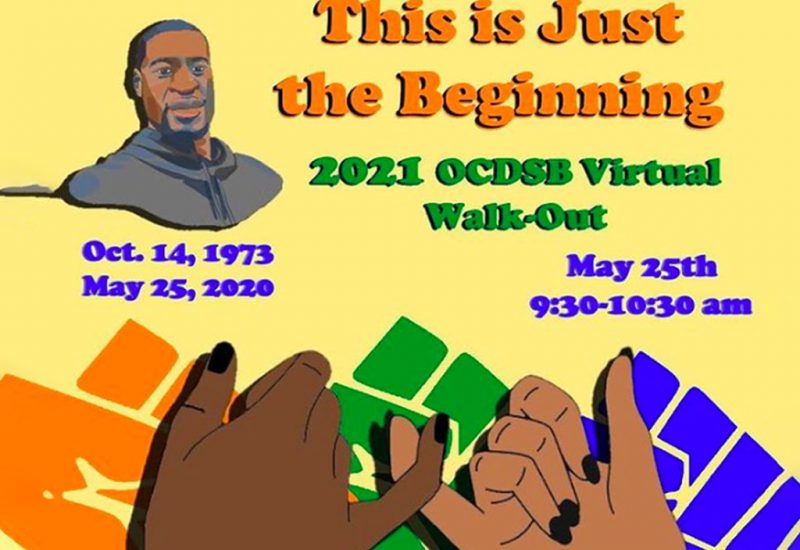 On May 25, 2021, the anniversary of George Floyd's murder, Black student clubs in OCDSB hosted a virtual walkout to maintain momentum for Black Lives Matter movement. Photo courtesy of Kyla Gibson.
GABBY CALUGAY-CASUGA – OTTAWA • ON | 26-05-2021
Community, Education, Justice
Yesterday, on the anniversary of George Floyd's murder, approximately 250 students from the Ottawa Carleton District School Board (OCDSB) participated in a virtual walkout from classes. The walkout not only commemorated George Floyd, but also sought to maintain the momentum for the Black Lives Matter movement that started a year ago.
At 9:30 a.m., walkout participants changed their Google Meets icon to the student walkout logo before leaving their class video calls. The event organizers then hosted a virtual assembly that featured spoken word poetry, educational talks on the walkout's calls to action and a video of George Floyd's family.
Kyla Gibson, one of the organizers of the event, said the idea for the event came after a safe space meeting.
"We had a safe space where all Black students across OCDSB were welcome," Gibson said. "And we had the idea to do a walkout on May 25, which is the anniversary of George Floyd's murder."
Gibson said that she has seen some encouraging changes in equity efforts by OCDSB but, she said there is still work to be done. To enforce the necessity of continued advocacy work, the theme of the walkout was "This is Just the Beginning."
"Having meetings is always super important but it's really taking action that makes a difference," Gibson said. "Rather than just saying, 'this needs to happen,' it's demanding that it happens which will really make a difference."
During the walkout's virtual assembly, Gibson and other speakers spoke up about future actions for Black students and allies to participate in and explained their four calls to action.
The organizers of the walkout called on OCDSB to rebuild high school instructional material to be more inclusive, eliminate the presence of police Student Resource Officers in schools, ensure Black students have support from Black counsellors and require a roundtable discussion between the heads of Black student clubs, student trustees, and student senators.
"I talked to teachers, and we will be sending out our calls to action directly to the board," Gibson said.
After the event, Gibson said she received feedback from attendees who felt empowered by the walkout. She said she feels good about the impact the walkout had and she hopes the speeches at the virtual assembly will help people to become better allies and advocates.
"I know that a lot of students have been struggling to be allies to those who are marginalized," Gibson said. "I've had students reach out to me and say, 'thank you for putting on this event. I've learned so much and now I know how to continue in my activism.'"
As the virtual assembly drew to a close, the organizers played an emotional clip of George Floyd's family reacting to the verdict of Derek Chauvin's trial.
Gibson reminded attendees to keep the victims of police brutality in their hearts as they move forward with inciting change.
There is a lot of optimism for the future, according to Gibson. She said that the walkout truly did feel like the beginning.
"It's this year that change needs to happen. I'm hoping that it is going to continue," Gibson said. "It's the momentum that needs to be carried on throughout these next few years so meaningful change can happen. I honestly do think it's happening."